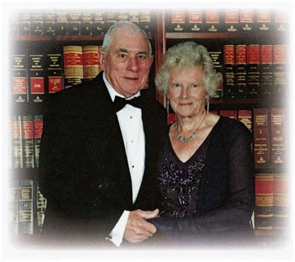 Joyce (1929-2015) and Harry (1930-2015) both passed away last April, within a fortnight of each other. The memorial service took place at Medway Crematorium on May 6th. Harry was a founder member of the Medway Society in 1975. As an engineer he was very useful to have around in the society's lapidary and rock cutting activities. He joined with Dave Talbot and Dr Robert Stout in the research into The Rock Types and Geology of the Lower Cretaceous Wealden District.
Here are a few words from Anne, our secretary
I started collecting minerals in the late 80's when my son was a toddler. After seeing an advert, I went to the Medway Lapidary and Mineral Society show at Hempstead Valley and then started going to the weekly meetings in Gillingham, where I met Harry and Joyce.
From the start they were so friendly and helpful and great mentors and teachers. I was lucky enough to view their wonderful mineral collec-tion on several occasions.Harry and Joyce used to take me to the British Micromount Society and Russell Society meetings, in their car, which was always an enjoyable outing. Sometimes I would also accompany them to Sidcup Mineral and Lapidary Society. Harry and Joyce used to help man a stall at the Dickens festival in Rochester, where they would sell the clubs minerals and fossils. Many times I was there with them, dressed up in one of Joyce's 'vintage' Dickens dresses, she had 'handed me down'.Harry had made a study of crystallography and helped me with the subject when I was doing my geology degree. He loved microscopes and loved to improve them by customising them. Well, of course, he was an engineer and loved making things, especially his model steam engines. He used to display them at shows, including the Kent County Show, where I used to see him with Joyce and family. They were always up for a social event and enjoyed the various garden party's members and other societies laid on. More recently it was me driving them to the Sidcup 'Do'. For many years Harry was club secretary, but really the two of them shared the job, until I took over. They had been members from the start of the club and seen many changes, including changes of venue and club name. I watched this lovely couple grow old, but still retain their wit, humour and dignity and know that they shared a long, satisfying, interesting and happy life together.
Anne Padfield